Websites that make small businesses look like
million dollar brands
Beautiful Design. Copy that Converts. Integrated with
Your professionally designed BrandSite will make you look like a million dollar brand
so you can show up like an authority in your market, and build immediate trust with your online brand presence.
When visitors land on your website they decide within just seconds if they'll stick around or if they'll click away. If the first impression they have of your business is based on an unprofessional or outdated looking website, they're gone before they even read your copy, and so is your chance to capture a lead or gain a new customer.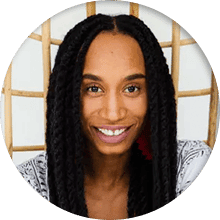 "After going through the BrandSite experience, not only do I have a stunning website, but… I learned how to tell my story in a way that clearly communicates the results and transformation of my work… Thank you!"
DEZ DAVIS
Having a beautiful website design is a great start but it isn't enough if you're serious about getting leads and sales from your website. The copy on your website should lead visitors through a clear, concise story that they relate to and that compels them to take action.
Your BrandSite will have copy that converts. We will help you create copy for your site that is based on a proven, highly effective story-based copywriting framework so that your website will really engage visitors and help them come to the conclusion that your service is the ultimate solution to their problems.
Your BrandSite will be built and hosted on our robust platform so we can personally manage your site security, run your daily backups, take care of your plugin updates and other techie stuff so you don't have to.
Your BrandSite will also be fully integrated with Your CRM so you can run your campaigns directly from your site to convert more visitors into customers.
Spend your time on growing your business, not learning and worrying about techie stuff. Get a BrandSite and leave the tech to us.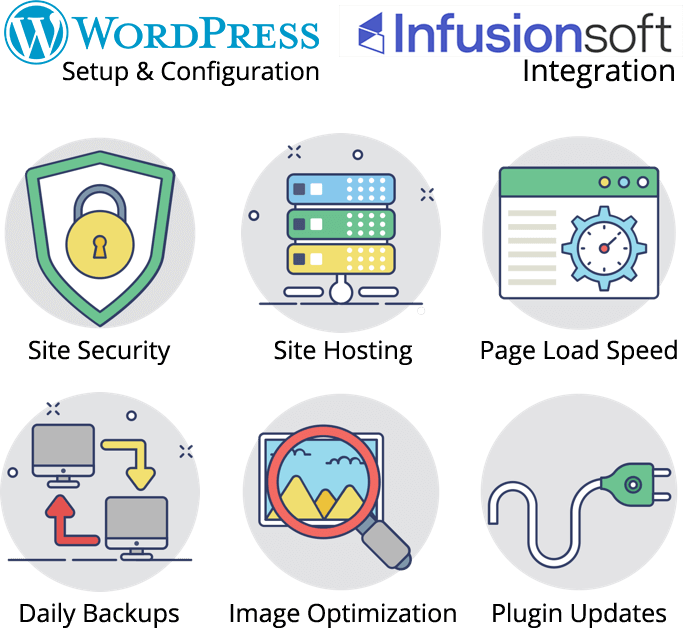 What does the process look like?
Select Your Site Model
Choose a starting point for your BrandSite by browsing through our professionally designed models to find the one you think will best represent your brand and impress your target audience.
Select Your Images
Next, you'll need to provide our designers with images to use as they customize your BrandSite for your brand. We'll show you what kind of images you'll need, exactly what size they should be, and where to get them.
Complete Copy Framework
The story your website tells is so important. But writing effective site copy is hard! That's why we'll be providing you with a fill in the blank framework to use so you can quickly and easily create engaging copy for your BrandSite.
Look like a Million Dollar Brand
When your BrandSite is ready, we'll integrate it with Infusionsoft for you, configure your site security, and connect your domain name. You focus on growing your business and leave the "going live" tech to us!
Continued service AFTER the site is live
After your site is live, we will still be on your team to help with any needed changes, or updates. Once your first year is up, we will also provide a complete site design update.
What is it worth?
How much is it costing you to have a website that makes you look small and compete small? Are you purposely not sending potential customers to your site because you're embarrassed? How many more clients do you think you would have right now if you looked like a million dollar brand, if you could clearly and effectively communicate the life transformation that your service creates and if you could automatically collect and nurture leads into customers?
We've created an easy investment structure that gives small businesses the benefits of a million dollar brand site AND that completely removes the risk of spending thousands and thousands of dollars upfront.
Limited Time Launch Pricing
Get started today with either of our BrandSite plans and save BIG during our official launch promotion. The discounted prices you see listed below won't last long. Get signed up right away to be grandfathered in at the lower prices for as long as you keep your BrandSite!
$

197

/mo
($897 first month)
Professionally Designed BrandSite
High Converting Site Copy
Integration With Your CRM
Securely Hosted on Our Servers
Daily Site Backups
Ongoing Support and Design Updates
When you sign up for your new BrandSite today, you will also get the following limited time bonuses completely FREE!
Full CRM Integration so you can automatically capture leads from your BrandSite and nurture them into clients in your CRM ($697 value)
High Conversion Copy Framework
that compels visitors to take action
($497 value)
Safety Security Layer (SSL) protection
for your BrandSite
($127 value)
Premium WordPress Optimized Web Hosting
on the fastest, most secure platform available
($35/month value)
Done-For-You daily backups
of your entire BrandSite, WordPress updates, and regular plugin updates
($27/month value)
Backend access so you can make future modifications
to your BrandSite
(priceless)
THAT'S OVER $1300 IN BONUSES!
Frequently Asked Questions
~add questions and answers here…~
Q: What's included with my BrandSite?
Your professionally designed BrandSite will make you look like a million dollar brand, and also includes the following:
1. Premium WordPress Hosting
2. SSL Certificate
3. Website Updates
4. Website Backups
5. High Converting Copy Framework
6. Infusionsoft capture and nurture campaign to collect and follow up automatically with leads from your site
7. Professional Website Image Optimization for initial release
8. Professional Website Copy Revision for initial release
Q: Will I be able to make changes to my BrandSite after it goes live?
Yes! Your BrandSite will be built on WordPress and will include an amazing Visual Builder that allows you to click and drag to easily add or edit elements to your page.
Q: How long will the whole process take?
Our mission is to deliver sites that make small businesses look like million dollar brands in 30 days or less.
But ultimately how long it takes will depend on how quickly you're able to provide us with your copy, images, and other information we'll need from you.
Q: Can I use my own domain name?
Yes, you will definitely want to use your own custom domain name for your BrandSite.
Q: How does my domain name get connected with my new BrandSite?
We will set it all up for you. All you need to do is register the domain name at your favorite domain name registrar (GoDaddy.com, NameCheap.com, etc).
Q: Will this affect my existing email?
No. If you already have email working at your domain name that you want to use for your BrandSite, that will continue to work just fine.