Websites that make small businesses look like
million dollar brands
Beautiful Design. Copy that Converts. Integrated with
Who are BrandSites for?
*hint: If you answer "yes" to any of the following questions you are exactly who we created BrandSites for.
Do you feel embarrassed to send people to your current website?
Are you sick of trying to create a stunning website by yourself?
Does your site need better copy so you can convert more visitors into leads and be seen as a trusted authority in your market?
Do you want to run your funnels directly from your website?
Are you a small business and want to look like a legit brand?
Does trying to integrate your site with Infusionsoft make you want to throw your computer out the nearest window?
Are you ready to show up in your market like an authority and have a much bigger impact? Sign up for a BrandSite today and let's make it happen!
Businesses already benefiting from BrandSites:
| | |
| --- | --- |
| Coaches | Financial Advisors |
| Authors | Speakers |
| Consultants | Lawyers |
| Service Providers | Doctors |
| Fitness Experts | Chiropractors |
| Solopreneurs | Start Ups |
And many, many more. We would love for your business to be the next one we add to this list!
Your professionally designed BrandSite will make you look like a million dollar brand
so you can show up like an authority in your market, and build immediate trust with your online brand presence.
When visitors land on your website they decide within just seconds if they'll stick around or if they'll click away. If the first impression they have of your business is based on an unprofessional or outdated looking website, they're gone before they even read your copy, and so is your chance to capture a lead or gain a new customer.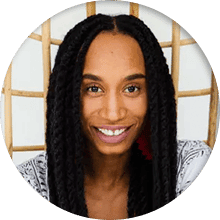 "After going through the BrandSite experience, not only do I have a stunning website, but… I learned how to tell my story in a way that clearly communicates the results and transformation of my work… Thank you!"
DEZ DAVIS
Having a beautiful website design is a great start but it isn't enough if you're serious about getting leads and sales from your website. The copy on your website should lead visitors through a clear, concise story that they relate to and that compels them to take action.
Your BrandSite will have copy that converts. We will help you create copy for your site that is based on a proven, highly effective story-based copywriting framework so that your website will really engage visitors and help them come to the conclusion that your service is the ultimate solution to their problems.
Your BrandSite will be built and hosted on our robust platform so we can personally manage your site security, run your daily backups, take care of your plugin updates and other techie stuff so you don't have to.
Your BrandSite will also be fully integrated with Infusionsoft so you can run your campaigns directly from your site to convert more visitors into customers.
Spend your time on growing your business, not learning and worrying about techie stuff. Get a BrandSite and leave the tech to us.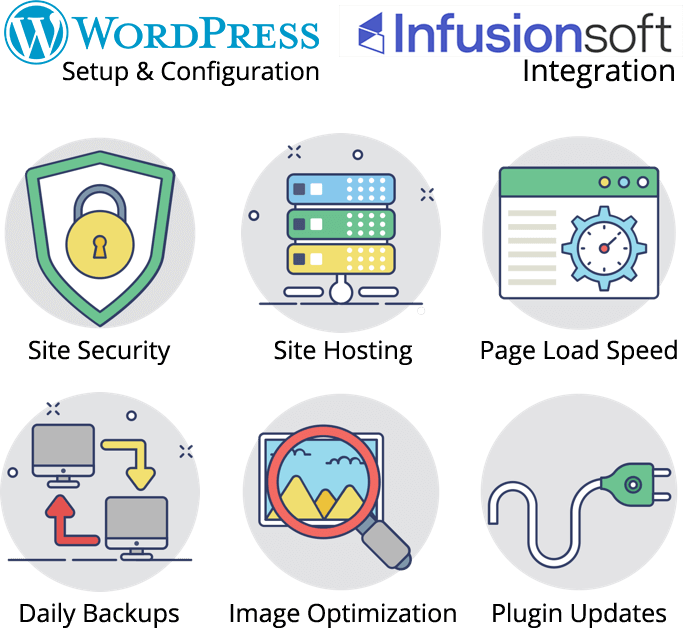 You have something to offer the world that you know will improve the lives of those who buy it. You're a coach, or a course owner, or a health professional, or some other form of small business wanting to make an impact in the world and grow your business.
But gaining traction and growing a small business can be hard. You sometimes feel like a tiny, hungry fish struggling to swim upstream towards food against a raging current, with everything seemingly working against your success.
And to add insult to injury, those bigger, stronger fish (AKA the million dollar brands in your market with their huge budgets) hardly seem to struggle at all as they effortlessly swim past you and eat all the food you were working so hard to get some of.
Having worked with thousands of small businesses across the globe, we totally understand the major challenges you face, and we've made it our mission to help you, and other small businesses, overcome those challenges. That's why we spent the better part of last year planning, developing, and perfecting the ultimate solution for small businesses who want to quickly establish themselves as trusted authorities in their markets.
Click the "Keep reading" link below to see the 4 big reasons you should get a BrandSite right away. You'll stay right here on the page and a little section will open up for you. 
Keep reading »
Here are the 4 major problems facing small businesses online and how a BrandSite will help you avoid them:
Problem #1: Regardless of how amazing your offer actually is, if your target market doesn't believe you're "the real deal" almost immediately upon landing on your website, they're gone before even finding out what your offer is. The initial decision to hear you out or not is often made in less than 9 seconds and is based almost entirely on their visual first impression of your website.
Solution #1: When you show up to the market with a professionally designed, carefully crafted BrandSite, you look like a credible, serious, million dollar brand.  It's about more than just "looking good" though… Your BrandSite is designed in a way that helps prospects instantly connect visually and emotionally to what your offer will do for them, which is ultimately what wins the first impression battle for you and earns you the opportunity to present your offer.
Problem #2: Getting their attention won't do you any good if the copy you then use to make your offer is confusing and doesn't effectively communicate the value of what you offer.
Solution #2: Your BrandSite comes with access to a proven, high converting copy framework that guides you through the process of creating copy for your website that will keep prospects engaged and clearly demonstrate what you're offering and why they should get it.
Problem #3: Even with amazing copy the fact of the matter is that the majority of your site visitors don't buy on their first visit. If your website doesn't effectively talk with your CRM (Infusionsoft, ActiveCampaign, Drip, etc), those visitors that didn't buy are lost forever and you're going to have a hard time growing.
Solution #3: When we set up your BrandSite we fully integrate it with your CRM so you can run automated campaigns from your site to nurture relationships with those visitors and bring them back to your site when they're ready. We will even implement a proven automation campaign inside your Infusionsoft account and connect it to your BrandSite for you.
Problem #4: Problems 1-3 above are why the big brands invest tens of thousands of dollars up front to have amazing sites created. But small businesses generally don't have the big budgets to invest up front in custom design, professional copywriters, and expensive integration services like the big brands do.
Solution #4: We have packaged our BrandSite offer in a way that you get everything you need to show up to your market like a million dollar brand with a professionally designed site, high converting copy, and full CRM integration, but without making a huge up front investment. In fact, we've made it so you can pay a small monthly or annual fee that any small business can afford with $0 upfront at all.
What does the process look like?
Select Your Site Model
Choose a starting point for your BrandSite by browsing through our professionally designed models to find the one you think will best represent your brand and impress your target audience.
Select Your Images
Next, you'll need to provide our designers with images to use as they customize your BrandSite for your brand. We'll show you what kind of images you'll need, exactly what size they should be, and where to get them.
Complete Copy Framework
The story your website tells is so important. But writing effective site copy is hard! That's why we'll be providing you with a fill in the blank framework to use so you can quickly and easily create engaging copy for your BrandSite.
Look like a Million Dollar Brand
When your BrandSite is ready, we'll integrate it with Infusionsoft for you, configure your site security, and connect your domain name. You focus on growing your business and leave the "going live" tech to us!
What's the investment?
How much is it costing you to have a website that makes you look small and compete small? Are you purposely not sending potential customers to your site because you're embarrassed? How many more clients do you think you would have right now if you looked like a million dollar brand, if you could clearly and effectively communicate the life transformation that your service creates and if you could automatically collect and nurture leads into customers?
We've created an easy investment structure that gives small businesses the benefits of a million dollar brand site AND that completely removes the risk of spending thousands and thousands of dollars upfront.
Take a look at the comparison table below and see how a BrandSite will let you compete with the million dollar brands.
Limited Time Launch Pricing
Get started today with either of our BrandSite plans and save BIG during our official launch promotion. The discounted prices you see listed below won't last long. Get signed up right away to be grandfathered in at the lower prices for as long as you keep your BrandSite!
$147

/mo

(12 Month Minimum)
Professionally Designed BrandSite
High Converting Site Copy
Integration With Your CRM
Securely Hosted on Our Servers
Daily Site Backups
$122

/mo

(Billed Annually)
Professionally Designed BrandSite
High Converting Site Copy
Integration With Your CRM
Securely Hosted on Our Servers
Daily Site Backups
Still have questions?
Request a
FREE

Demo
When you sign up for your new BrandSite today, you will also get the following limited time bonuses completely FREE!
Lead Capture and Drip Nurture Campaign to automatically collect leads from your BrandSite and convert more visitors to customers ($697 value)
High Conversion Copy Framework
that compels visitors to take action
($497 value)
Safety Security Layer (SSL) protection
for your BrandSite
($127 value)
Premium WordPress Optimized Web Hosting
on the fastest, most secure platform available
($35/month value)
Done-For-You daily backups
of your entire BrandSite, WordPress updates, and regular plugin updates
($27/month value)
Backend access so you can make future modifications
to your BrandSite
(priceless)
THAT'S OVER $1300 IN BONUSES!
Frequently Asked Questions
~add questions and answers here…~
Q: What's included with my BrandSite?
Your professionally designed BrandSite will make you look like a million dollar brand, and also includes the following:
1. Premium WordPress Hosting
2. SSL Certificate
3. Website Updates
4. Website Backups
5. High Converting Copy Framework
6. Infusionsoft capture and nurture campaign to collect and follow up automatically with leads from your site
7. Professional Website Image Optimization for initial release
8. Professional Website Copy Revision for initial release
Q: Will I be able to make changes to my BrandSite after it goes live?
Yes! Your BrandSite will be built on WordPress and will include an amazing Visual Builder that allows you to click and drag to easily add or edit elements to your page.
Q: How long will the whole process take?
Our mission is to deliver sites that make small businesses look like million dollar brands in 21 days or less.
You'll have 7 days to complete the image search and copy framework. The completion date will be extended if you require more time. Most businesses can complete both steps in 4-6 hours. 
Q: Can I use my own domain name?
Yes, you will definitely want to use your own custom domain name for your BrandSite.
Q: How does my domain name get connected with my new BrandSite?
We will set it all up for you. All you need to do is register the domain name at your favorite domain name registrar (GoDaddy.com, NameCheap.com, etc).
Q: Will this affect my existing email?
No. If you already have email working at your domain name that you want to use for your BrandSite, that will continue to work just fine.
Still have questions? Call us at (480) 351-1999 ext 421